Best FxPro Alternatives
FxPro alternatives


The Best FxPro Competitors and Alternatives

The best FxPro alternatives are IC Markets, Roboforex, AvaTrade, FP Markets, NordFX, Plus500, XTB, Pepperstone, XM, and eToro.

Although FxPro is a very popular trading site you may be looking for the best FxPro alternative or best FxPro competitor trading platform out there right now. FxPro allows you to invest in a wide choice of equities on some of the world's most prestigious stock exchanges, including UK, US, and European companies. However, FxPro isn't for everyone, so if you're searching for something different, we've evaluated the features and fees to identify several FxPro alternatives. If you want to delve into more detail as to what each FxPro alternative is able to offer, you can learn more about specific features of each FxPro alternative and competitor further below this FxPro alternatives guide.

No broker is perfect, and FxPro is no exception. While they do have a lot of pros, there are plenty of reasons why you might be looking for an alternative to FxPro :

Let's see in a bit more detail how the FxPro alternatives compare to FxPro and each other:
FxPro alternatives


What are the best FxPro Alternatives?

Brokers differ in a variety of ways, which implies that each one may be appropriate for various people. Here's how they stack up in general:
FxPro alternative


What is the best alternative to FxPro?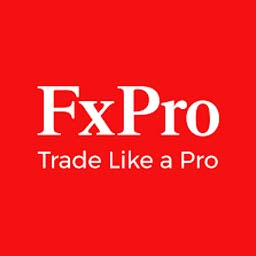 Risk Warning: 75.78% of retail investor accounts lose money when trading CFDs and Spread Betting with this provider.
A popular alternative to FxPro is IC Markets.
IC Markets, a brokerage registered with the Australian Securities and Investments Commission (ASIC), Financial Services Authority (FSA), Cyprus Securities and Exchange Commission (CySEC), has been in business for over 16 years and is a popular alternative to FxPro.
Roboforex, which is regulated by the Financial Services Commission (FSC) License 000138/437 is another viable option when looking for a FxPro alternative.
FxPro alternative


The Best Alternatives To FxPro In Detail

Whatever your reason, We show you good FxPro alternative below. We analyse over 450 brokers across 80+ factors, from the competitiveness of their spreads to the quality of their trade execution and regulation. Below are ten of the best FxPro alternatives.
FxPro Fees Compared

| Name | Trading Fees | Withdrawal Fees | Inactivity Fee |
| --- | --- | --- | --- |
| | Yes | | No |
| | No | | No |
| | No | | Yes |
| | No | | No |
| | No | | No |
| | No | | No |
| | Yes | | No |
| | Yes | | No |
| | Yes | | No |
| | Yes | | No |
| | Yes | | Yes |
| | No | | Varies |
Why are these brokers considered good alternatives to FxPro?
There are many areas based on which FxPro can be compared with others. When we say a given online broker is a good alternative to FxPro we mean these brokers are comparable in the following areas:
The products they offer, meaning you can buy mostly the same things, i.e. stocks, CFDs, options, etc. The type of clients they target, i.e. beginners, experienced investors, or day traders.
FxPro competitors like FxPro
FxPro is not as well known as some more popular brokers like eToro. If you are looking for a FxPro alternative we list some of the best FxPro alternatives below.
The 10 top FxPro alternatives on this list were chosen based on their closeness to the FxPro platform as well as their potential for Social Trading, Copy Trading, and other options.
FxPro alternatives


FxPro Alternatives Comparison

Comparing the alternatives to FxPro is a crucial task to get right if you wish to find a broker that is best for your trading needs. There are several elements that you should include your comparison between FxPro and FxPro competitors, and they should be written down in a way that allows you to cross-analyse each identifying feature.

Such elements include whether or not the broker is regulated, what online reviews say about the company, their minimum requirements, what they can offer you as either a new or continuing customer, the educational and training resources they offer, the usability of the trading platform itself, if they offer good and around-the-clock customer support, their trading costs and fees, how easy it is to deposit or withdraw money, and the safety features that the broker can guarantee you as a customer who stores their money.
FxPro alternatives


Alternatives to FxPro are based Key Factors
FxPro Fees Alternatives
Your online brokerage may charge a variety of fees, and the quantity and magnitude of these fees might vary dramatically from one broker to the next. Both of these factors might have an impact on your profits and overall experience. The fees charged by FxPro are considered typical.
When looking for an alternative, consider brokers that are less expensive than FxPro. Although you will never be able to fully avoid trading fees, you can minimize their effect by choosing the correct broker for your style of trading.
Conduct some research to help compare the costs of buying or selling, as well as holding trades between FxPro and FxPro competitors. Take a look at the following their spreads (fixed or variable), their margin interest, and any service charges.
FxPro Account Opening Alternatives
FxPro has a minimum deposit of 100 USD / GBP / EUR. Some brokers need a minimum first-time deposit of €500 to start an account, while others have no such requirement. The time it takes to open an account can also vary greatly. This is not a problem at FxPro because you may have it available the same day you join. To open certain accounts some brokers can require at least €50,000 to be initially invested, while several others do not even set a minimum first-time deposit.
The time it takes to open your account can also vary between brokers as well. However, what a first-time trader will need to consider when choosing between FxPro and competitor brokers, is how much money you will personally need to trade on their platform. This will boil down to the type of position size and margin requirements you typically need for your personal trading.
One needs to also bear in mind the payment methods that are available to new customers on the FxPro platform. Do they offer debit cards, bank transfers, or online payment methods? What are the transaction costs for each of these methods? Regulated brokers do not typically accept cryptocurrencies as deposit methods because they this goes against AML regulations if they do.
FxPro Deposit / Withdrawal Alternatives
The quantity of options for depositing and withdrawing funds from your FxPro alternative trading account is critical. While you can deposit with a credit card at FxPro, you might not be able to do so at its competitors. Every broker has their own policy when it comes to clients depositing money into their trading account, or withdrawing money from the platform into their bank account.
Check that with your FxPro alternative you can make a deposit via Debit Card, Credit Card, Wire transfer, or a Digital wallet like PayPal. You can ask your FxPro alternative to send a copy of their policies and costs on how one withdraws your money in order to confirm how long it will take.
FxPro Web Trading Platform Alternatives
While online brokers are typically available on a variety of platforms, including mobile apps, tablet apps, and desktop software, the majority of users access them through a browser. A FxPro alternative Trading platforms that are easy to use and provide a variety of tools can considerably improve your trading comfort. The majority of your preparation, technical analysis, and execution of trades on FxPro are going to take place through the trading platform. You should try out its web trading service, test it, and learn the ins and outs, in order to make sure that it will suit your trading style and needs.
FxPro Markets and Products Alternatives
Many people have certain financial products in mind that they want to invest in. For example cryptocurrencies, stocks, commodities, Forex. It's crucial to know whether stocks, currency, mutual funds, and other goods are offered at a particular FxPro option.
Is FxPro the best platform?
There are brokers that have better financial regulation that FxPro. Look for a FxPro alternative is also regulated by top tier financial regulators like the United Kingdoms Financial Conduct Authority.
Is FxPro a good trading platform?
Is There something better than FxPro?
FxPro has a rating of 3 and is regulated by Financial Conduct Authority (FCA), Cyprus Securities and Exchange Commission (CySEC), Financial Sector Conduct Authority (FSCA), Securities Commission of the Bahamas (SCB). FxPro is regulated by Financial Conduct Authority (FCA), Cyprus Securities and Exchange Commission (CySEC), Financial Sector Conduct Authority (FSCA), Securities Commission of the Bahamas (SCB) and has a rating of 3.
Is FxPro Better than IC Markets
FxPro has a rating of 3 and is regulated by Financial Conduct Authority (FCA), Cyprus Securities and Exchange Commission (CySEC), Financial Sector Conduct Authority (FSCA), Securities Commission of the Bahamas (SCB). IC Markets is regulated by Australian Securities and Investments Commission (ASIC), Financial Services Authority (FSA), Cyprus Securities and Exchange Commission (CySEC) and has a rating of 4.
Is FxPro Better than IC Markets
FxPro has a rating of 3 and is regulated by Financial Conduct Authority (FCA), Cyprus Securities and Exchange Commission (CySEC), Financial Sector Conduct Authority (FSCA), Securities Commission of the Bahamas (SCB). IC Markets is regulated by Australian Securities and Investments Commission (ASIC), Financial Services Authority (FSA), Cyprus Securities and Exchange Commission (CySEC) and has a rating of 4.
FxPro alternatives


What You Should Look For In A FxPro Alternative

There are a number of universal rules that any aspiring trader should adhere to when choosing a FxPro alternative. The relevance of features offered by FxPro alternative will vary in importance to different traders depending on their goals when investing.

These factors and rules include, but are not limited to, whether or not the alternative to FxPro is regulated or not, if it could go bust. You need to check your FxPro alternative will help you avoid slippage, check the extent of customer service that your FxPro alternative offers, how many Forex pairs it has available to its traders, the type of Forex leverage and margin requirements that are on offer with your FxPro alternative, if there are any spreads or commissions, the minimum deposit needed, and its education and research tools from your shortlist of FxPro alternatives.
Check Your FxPro Alternative is Regulated
Regulation is crucial when choosing a FxPro alternative as your broker. You will need to make sure that they are a respected platform and are financially secure. This includes checking their registration with the country's regulatory body and ensuring that they are allowed to operate in that country. It should also include checking your own local regional regulations to make sure they are permitted.
Brokers that are regulated in lesser-known financial hubs are called offshore brokers, which, although can offer increased flexibility in account functionality, come at the expense of poor regulation and less protection over your account and money. Safe licenses are those that originated from developed countries, such as the FCA in the United Kingdom. Safe, regulated broker alternatives to FxPro will offer you a secure and stable trading platforms. This can be either an in-house broker-specific platform, or a third-party platform as an alternative to FxPro.
Check How Many People Use Your FxPro Alternative
Acquisition and retention of customers can be some of the top priorities for FxPro alternatives, as a good customer base allows companies to hone in on attracting new audiences. Before making a decision on an alternative to FxPro, you will therefore want to see what others have said and are saying about the FxPro alternative in order to assess its suitability and current user satisfaction rate. One can achieve this by searching on Google, trading forums, or look at the FxPro alternatives' social media pages to see what other clients and customers have written about them when it comes to reviews, testimonials and ratings.
Check Your FxPro Alternatives Fees
Trading costs and fees are an important factor to consider when deciding on a FxPro alternative, but not sacrifice the security and safety of your FxPro alternative in order to save money on such fees or commissions. A number of unregulated brokers can try to attract customers by offering very low trading costs, but recovering your funds from this type of scam broker can be a real headache.
Trading fees through the FxPro alternative can arise in the form of commissions, spreads, and fees. Spreads are the difference between buying and selling prices of a particular financial instrument. The majority of brokers offer very competitive spreads, some can even be as low as 1 pip with a few of the major pairs. Having said this, spreads are able to widen, thus increasing your trading costs.
This is particularly relevant when high-impact market reports are released or unexpected news hits the markets. Commissions can more often then not be paid to your FxPro alternative based on the volume of trades completed. Luckily, many brokers no longer charge commission, apart from special cases such as zero-spread accounts. Fees are the other costs that one may incur from a FxPro alternative upon completing a trading experience. A common fee is the withdrawal fee, which is charged to your account after submitting a withdrawal request.
FxPro Alternatives Share Dealing Fees
Share dealing fees include the likes of ETFs and investment trusts are are charged made for each buy or sell transaction that one places with a broker. This can include the contributions made through a regular savings plan and dividend reinvestments too, and are be deducted from the amount one has invested made via a sale.
FxPro Alternatives Trading Commissions
Check your FxPro alternative offers low or zero commission trading on stocks and other financial instruments. Trading commission is a charge that is levied by a broker for conducting trades on a trader's behalf. Commission can vary between brokers, particularly depending on the asset being traded and the form of service that is being offered. The new trend is for zero commission trading when using a mobile trading app.
Zero commission has now been a feature of the exchange market for a number of years. You will potentially want a broker that provides a good commission based on your followers if you are a signal trader (which are known as copiers), as well as a variety and range of assets for you to trade with. It is also useful to benefit from good platform infrastructure which can help you organise and manage your accounts and followers. If you are a copy trader, you will want to prioritise low commission or a low minimum investment requirement when copying a position.
FxPro Alternatives Spreads
A spread trade is the simultaneous purchase of one security and sale of a related security as a single unit. Spread trades are typically executed in conjunction with options or futures contracts. You will typically want to use a FxPro alternative that has the lowest spreads possible, but do keep in mind that the broker you use has to make money in some form or another, so if the spread offer is too tight or even non-existent, the broker must be making money from you in a different, less visible way. In any case, spreads should be low for high volume traded markets on the FxPro alternative you use.
FxPro Alternatives Overnight Fees
The term overnight fee refers to the interest one pays on their trading leverage. When one uses a leveraged investment vehicle, such as a leveraged Forex position or a CFD, they have to borrow money from a broker in order to increase the value of their investment and as a result open larger positions. When choosing a FxPro alternative, you will want a platform that charges low overnight fees. Overnight fees are common and are charged by most online brokers.
FxPro Alternatives Inactivity Fees
The majority of online brokers will have 'hidden fees' that are not obvious; this can include inactivity fees which are fees charged on accounts that have been dormant for a long period of time, with no trades being made across 3 months, 6 months, 12 months, or longer. Choose a FxPro alternative that has the longest inactivity fees possible, or make sure that you remain active on your platform with your trades.
Check Your FxPro alternatives Customer Support Options
It is important that your FxPro alternative provides good customer support, so find out where you can contact the broker in case you need help due. They should be contactable through phone, e-mail, online live chat, or even WhatsApp or Skype. You can test to see if your FxPro alternative offers good customer service by giving their representative a call: make sure they sound knowledgeable and confident when telling you about their services. How do your FxPro alternative respond to your questions?
Do they seem friendly and approachable? How quickly can they solve your query?
Contacting the FxPro alternative support team will also help you confirm their quality, reliability, efficiency, and credibility. Behind the scenes of good customer service is the operations department, which should also be good in order to make sure that you see quick and secure deposits/withdrawals.
Check your FxPro Alternative Offers Deposit And Withdrawal Methods You Want
Each FxPro alternative has their own measures and policies in place with regards to clients depositing into trading accounts or withdrawing back into their bank. It is important that you research the FxPro alternative to make sure that they have the type of deposit and withdrawal method that you will want to use, as this will make your trading journey much easier and less stressful.
Find out if you broker allows for deposits and withdrawals via EFT, Credit Card, wire transfer, or event PayPal. It is very likely that you will want to deposit and withdraw money frequently to/from your account. This means you need to check out the FxPro alternative conditions and fees associated with depositing or withdrawing, as well as the methods they allow. Be sure to research how much time it may take to process on both ends, as a reputable regulated broker should never take more than three working days to send you your money or let you deposit it. If it is longer than this, then stay well clear of that FxPro alternative.
Check Your FxPro Alternatives Offer A Mobile Trading App
Before you sign up with your FxPro alternative, you will want to check the availability of a mobile trading app and its usability. If you want to be able to trade on the go, then an easy-to-use mobile app may be useful for your FxPro alternative to offer.
FxPro Alternative Education Resources
A reliable FxPro alternative broker will want you to be a successful trader. This means that they should be offering you a range of free educative resources and training tools, including training guides, glossaries, trading videos, podcasts, forums, support staff, step-by-step trading tutorials, opinion-based resources, trading calculators, tools and calendars, written articles, and live trading events and webinars.
Education resources offered by a FxPro alternative can also help you save time if available through the broker; It should be easy to ask follow-up questions to the broker based on your own historical trades. With FxPro alternative education resources, ask yourself whether the content is free, detailed enough, and if you are an advanced experienced trader, is there enough challenging material for you to use too?
FxPro Alternative Financial Instruments
What do you want to trade? If FxPro does not offer trading in specific financial instruments, check your FxPro alternative does. With high competition in the modern day market, each broker is likely to offer different instruments and advantages depending on their client base. Before you sign up for a FxPro alternative, make sure you assess the availability and range of instruments you wish to trade are present on their platform.
Check If Your FxPro Alternative Offers Social Copy Trading
If you are the type of trade who likes interactivity when trading, you may be interested in whether your FxPro alternative offers social trading or social features to afford you the opportunity to engage with other online traders. As a new trader one should be sure to look out for this, as it is possibly a way to earn money from those with more experience trading as they offer trading signals and strategies for one to copy and profit from.
FxPro Alternatives Demo Accounts
Check whether your FxPro alternative offer a demo account or trial period. One should never rush into trading with real money; get to know your broker and your FxPro alternative trading platform by engaging with their demo account and learning the ropes before spending real money. A demo account is the perfect place to learn about a FxPro alternative broker, as it lets you find out whether or not they allow for unlimited use or whether it is restricted to a certain number of trail period days.
Make sure that the demo account is also an account that is authorised by the FxPro alternative themselves. A number of brokerage firms offer demo accounts, so use them to practice your trading strategy before deploying it on the real platform. This can help highlight glaring issues in one's strategy helping prevent you from wasting your real money on the live platform.
Having said this, whilst demo trading can be useful, it cannot replace real world trading. There are no emotions involved in trading with a demo account, and making money with them is often very easy. Upon moving to real trading with real money, emotions become a lot more real and can incite traders to be more risk-averse and take profits quickly, or run the risk of losing positions to avoid being wrong. As a result, make sure you realise what a FxPro alternative demo account is really for and how to use it to improve your real trading strategy.
FxPro alternative Order Types
When testing out your FxPro alternative, make sure that it suits your trading style by looking at the variety of trading order types it has on offer. Do they offer orders such as market, buy, sell, stops, limit, trailing stop loss, or guaranteed stop losses?
Check If Your FxPro Alternative Has Been Banned At Any Point
Conduct an Internet search about your FxPro alternative to see if any news stories cite it as having been banned by regulatory authorities in the past. If it has been banned, it may not be a trustworthy platform to use, or one that may go bust in the future, thus making you lose your money.
Check Your FxPro Alternative Trading Hours
You may often wish to trade during pre-market hours or after-market hours for both stocks or Forex. If you do want to do this, ensure that the FxPro alternative broker offers such trading times or even if it permits use of a VPS for 24/7 trading.
Check Your FxPro Alternatives Min Deposit
You must first know how much you can afford to deposit into your FxPro alternative account. Choose a broker who has a minimum deposit that fits your trading budget. There is sometimes no minimum deposit to trade Forex, but some brokers previously had high minimum deposit requirements of five or ten thousand dollars.
A beginner trader must consider how much money they will need to trade, and this will be a result of their position size and margin requirements. One should keep in mind the payment methods that are available to make a deposit too, such as debit card, bank transfer, or online payment methods and the costs associated with transactions made through these methods.
Check Your FxPro Alternatives Leverage
The issue of leverage is becoming an increasingly large problem for FxPro alternative brokers. Users will see a trade off for trading with a regulated Forex broker in order to get better leverage. The rules are continually changing, but in April 2021, leverage in Europe (regulated by ESMA) was capped at 30:1. Remember that the higher the leverage offered by your FxPro alternative, the higher the reward as well as the higher the potential risk.
Check What Bonuses Your FxPro Alternative Is Offering
Bonuses offered by your FxPro alternative can be a great way to get started when trading online, but be mindful that there are typically a number of specific conditions attached to such deals. Such attachments can make bonuses hard to withdraw in a number of cases. Where there is no bonus in your FxPro alternative], there may be other benefits that you can reap the rewards from, such as rebates on trades, active trader programmes, or other incentives to lower costs.
What A Beginner Should Look for in a FxPro Alternative
If you are new to trading and looking for a FxPro alternative, you should look for a FxPro alternative with a good demo account. demo trading accounts are free and use virtual money to trade often upto $100,000 USD in demo trading currency. You can get to know a broker without taking any risks.
A solid educational section and excellent customer service are two additional crucial features of any broker that can help you get along with what may be your first Forex broker.
CopyTraders looking for a FxPro Alternative Need Social Trading Features
What is copytrading social trading.
Algorithm Automated Traders Need An FxPro Alternative With MT4 / MT5
Expert Advisor trading scripts frequently necessitate sophisticated VPS installations and fast broker connections. The MT4, MT5, and cTrader systems can all be used for automated trading.
FxPro Alternatives Frequently Asked Questions
FxPro Alternatives Reviews
We also have in depth reviews of each of the best FxPro alternatives listed below.