Investing in ETFs
ETF is an abbreviation of exchange-traded fund. It is a type of security and basically tracks a sector, commodity, index or other assets. It can be bought and sold on a stock exchange as stocks are bought and sold. A good example of an ETF is the SPDR S&P 500 ETF (SPY) that tracks the popular S&P 500 Index.
In this article titled Investing in ETFs, we will take a detailed look at it like what are the types of ETFs, how to start investing in the ETFs, how to trade ETFs and what are the pros and cons of ETFs.
Investing In ETFs Key Highlights
ETF is basically a basket of securities and traded on an exchange as stocks are traded.
The prices of ETFs fluctuate throughout the day. It has similarities with mutual funds, which though is traded once a day and only after the market closes.
ETFs contain various types of investments like bonds, commodities and stocks.
The broker commission is low compared to buying of stocks.
Types of ETFs
ETFs are of various types and below are these explained:
Bond ETFs
Bond ETFs help in providing regular income and the income distribution among the investors is based on the performance of the underlying bonds such as corporate bonds, government bonds, and state and local bonds. However, the bond ETFs have no maturity date as seen in the underlying bonds and these are traded at a discount or premium from the actual bond price.
Stock ETFs
Stock ETFs track stocks of a sector or industry like foreign stocks or automotive stocks. The focus here is to diversify the exposure to a single industry, new entrants or high performers. The broker fee is low compared to stock mutual funds.
Industry ETFs
Sector ETFs or industry ETFs focus on a specific sector or industry such as the energy sector. The basic focus is to gain exposure to the upside of the industry.
Commodity ETFs
These ETFs deal in commodities like gold, crude oil, livestock and agricultural produce. Investors use commodity ETFs to diversify their portfolios. When the stock market is bearish, the commodity ETFs usually perform upward.
Currency ETFs
It involves investment in the currencies through ETFs. It is used to speculate the prices of currencies or to diversify a portfolio. Many use it to hedge against forex market volatility.
Beginners Guide to Investing in ETFs
Investment in ETF is fairly easy and below mentioned are some basic steps to follow:
Find Investment Platform
Most online investment platforms offer to invest in ETFs. Hence, the first factor to consider while investing in ETFs is to find a suitable investing platform. Some platforms offer commission-free service while others charge accordingly. Some offer mobile apps to trade ETFs along with providing the same service through their websites and platforms.
Research ETFs
The next step is the research the ETFs. All may not turn up well or be suitable. These are the same like stocks and it is suggested to consider the whole picture while researching the ETFs.
Trading Strategy
A proper trading strategy is important. It is important for beginners to learn how to work on building up a trading strategy.
Popular ETF Examples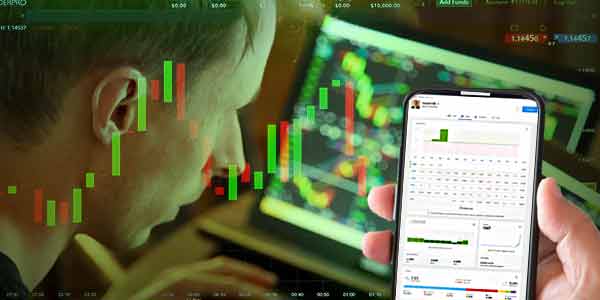 The financial market is flooded with many ETFs and some are highly popular like the SPDR S&P 500 (SPY), the iShares Russell 2000 (IWM), the Invesco QQQ (QQQ) and the SPDR Dow Jones Industrial Average (DIA).
Pros and Cons of Investing in ETFs
Before investing in ETFs it is important to know the pros and cons. Below are some advantages and disadvantages of ETFs to take note of:
Pros
Investors get access to many stocks and from various industries.
The expense ratio is low and the broker fee is less.
The ETFs focus on targeted industries.
Cons
A high fee is witnessed in actively managed ETFs.
Lack of liquidity is witnessed.
Investing in ETFs Verdict
Investing in ETFs is considered safe compared to direct investment in stocks, bonds or commodities. These are similar to mutual funds but with some differences like can be bought and sold throughout the day. ETFs track underlying index, sector or industry and it becomes easy to follow the performing sectors.
In this article titled Investing in ETFs, we briefly discussed various aspects of ETFs including types of ETFs and the pros and cons of ETFs. Beginners and novice traders are always suggested to start with ETF trading.