Buying Cryptocurrency
The world of cryptocurrency is expanding. More investors and traders are acquiring an interest in it. But fewer people know how to start with buying cryptocurrency in an easy and safe way. Below are some easy steps and tips to begin with investing or trading crypto coins:
Choose Cryptocurrency Exchange or Broker
The first step is to choose a cryptocurrency exchange or a broker. Both help in buying cryptocurrency. However, there are some differences between the two.
A crypto exchange is a trading platform where both buyers and sellers meet to trade crypto coins. The fees charged here are usually low compared to brokers, but the interfaces are slightly complex due to advanced performance charts and multiple trade types. Beginners and novice traders may find thee a bit complex. A few examples include Coinbase, Binance and Gemini.
Brokers make buying cryptocurrency simple and less complex for investors and traders. They interact with the exchanges on behalf of clients and may charge comparatively higher fees for their additional services. However, some brokers claim to offer free services.
Open Account
Once an exchange or a broker has been chosen, the next step is to open a trading account. It takes just a couple of minutes to sign up. Some platforms may ask for verifying identities. It may take some time. Proof of identity is required to be uploaded to the website. This step prevents fraud as well as meets the federal regulatory requirements. Selling or buying cryptocurrency is only possible after the verification process is completed.
Depositing Fund
After the process of account opening is completed, a deposit of funds is required to the account. It can be done by linking the cryptocurrency account with a bank account and thereafter authorizing the fund transfer. It can be even done through a debit or credit card.
It is important to note here that sometimes paying through a credit card can turn up risky as the credit card companies may charge higher interest rates as the payment is treated as cash advances.
Place Cryptocurrency Order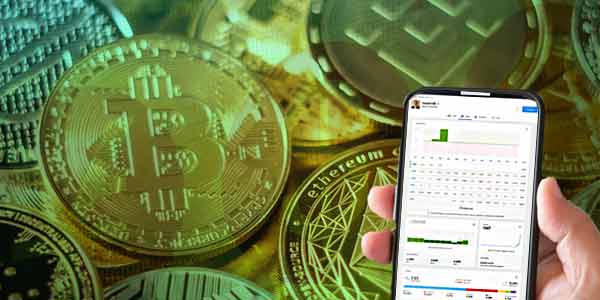 After the account is funded, now comes the real step. It is buying cryptocurrency. The first order can be placed now. There are hundreds of cryptocurrencies and some to name here are Bitcoin, Dogecoin, Ethereum, Litecoin, Tether, Cardana, XRP, Polkadot and Uniswap.
When a currency is decided, enter the ticker symbol like BTC for Bitcoin and thereafter the number of coins to buy on the platform. Some brokers and exchanges offer to buy fractional shares of a cryptocurrency. This facilitates buying of high-priced tokens.
Storage Method
Storing the purchased crypto coins is important. The coins can be hacked if not properly protected. Moreover, the exchanges are not backed by the Federal Deposit Insurance Corp. or other agencies to protect the investors.
The cryptocurrencies are stored in the crypto wallet on the exchanges. There are two types of crypto wallets - hot and cold. A hot wallet is storing coins online while cold one is storing coins offline. A small fee is charged to store the coins.
A cold wallet is like a USB or hard drive and not connected to the internet. In brief, the coins are stored on an external device and cannot be hacked. It is important to remember the keynote. The wallet cannot be opened without the key code. If the key is lost, the coins are lost too.
Buying Cryptocurrency in Alternate Ways
There are some other ways to buying cryptocurrency apart from exchanges and brokers. These are like exchange-traded funds (ETFs) or buying the shares of such companies that deal in cryptocurrencies. Investment can also be made in companies that own blockchains, the platform of cryptocurrency.
Buying Cryptocurrency Verdict
The world of currency is changing. The traditional way of exchanging money through coins and banknotes is now less used. People are mostly sending or receiving money electronically. Amid the digitalization of the money transfer system, cryptocurrency is a new concept, just about a decade old and Bitcoin was the first crypto coin that was released in 2009. Today, there are thousands of cryptocurrencies such as Ethereum, Dogecoin and Litecoin.
In this article titled Buying Cryptocurrency, we discussed in detail the process of buying crypto coins and what are the pros and cons of buying either through exchanges or through brokers. We also shared the views of alternate ways to buy digital currencies.
Beginners and novice traders should know that the cryptocurrency market is highly volatile and unpredictable. The risk level is too high.